Data recovery service is a service extracting and recovering data such as pictures, videos, emails, customer information, administration data, etc., lost on servers, computers, flash memory due to errors or sudden troubles occurred to devices.
We recover data "fast, safe and secure" by absorbing the latest technology and introducing cutting edge equipment from institutes around the world.
As a result we have been No.1 data recovery firm in Japan for 9 years in a row in terms of number of inquiries, number of recoveries, recovery ratio, and revenue.
We are planning to expand globally and aim to be the World No.1 data recovery firm.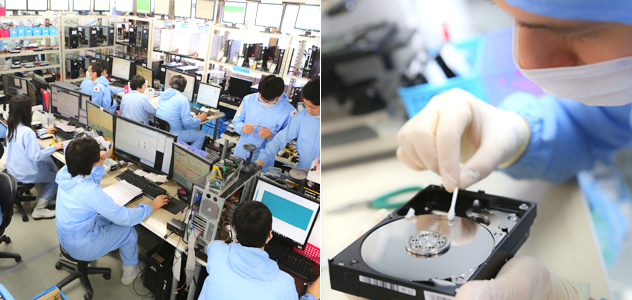 2007

January

Establishment of a technical partnership with an American data recovery firm.

March

Participation in data recovery conference in Chéngdū China.

November

Joint study of new technology in Russia.
2008

May

Participation in data recovery summit in Russia.

June

Technical introduction of firmware recovery technology from China.

August

Invitation of Dr. Peter Finlay as a technical supervisor.

September

Joint project with company producing analyzing software in Sìchuān China.
2010

January

Technical exchange with Disk Doctor Labs Inc.

October

Recovery rate of firmware error enhanced by 20% thanks to technical exchange with specialists.
http://internet.watch.impress.co.jp/docs/special/20100622_374781.html(Japanese)
2012

June

Succeeded in NAS recovery by an AES256bit method.
2013

July

RED development dept. succeeded in ZFS data recovery.
2015

May

Invention of data recovery tools designated for on-site recovery of large-amount servers.